Our Favorite Picks for 2023!
 "Winter is a season of recovery and preparation". - Paul Theroux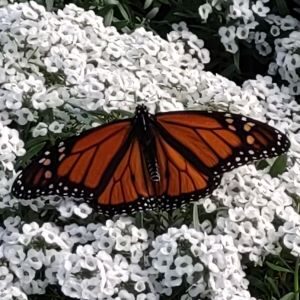 Let's skip winter and dive into spring!
Now that fall shipping is completed, we have visions of our Early Spring and Spring plants dancing in our heads. This is the perfect time for reflection of the past seasons. What worked for you this year and what didn't? Make some notes and be prepared to place your orders early and start off 2023 with "Do Not Procrastinate" crossed off on your New Year resolutions list! Your future self will thank you when the weather starts to warm, everyone is in spring mode, and you have your orders placed and complete. Our Early Spring and Spring price lists are out. If you need any help getting your motivation going, check out our gallery of crops in the landscapes and in our greenhouses. If you are still uncertain, you can give us a call or shoot us an email, we will be happy to help with any information needed to complete your selections. If you need a summary of what you had purchased in the past from us, we can help you with that as well.
Below are a few items that we are excited about adding to our 2023 line that you may want to use in your designs. See which ones inspire you or try them all!
Mindy's picks:
Verbena Lascar Purple & White - I gravitated to this plant in all the trial gardens where it was displayed! The name is deceiving, there's a magenta center that just makes this flower sparkle.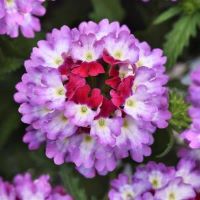 Vinca Tattoo Black Cherry - MSU displayed this in a monochromatic garden and in pots, it's a striking color and a plant that played well with others.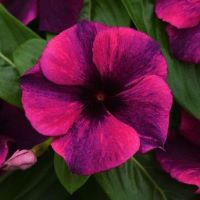 Canna Cannova Peach Bronze leaf - The contrast of the light peach color against the dark foliage is eye catching and peaceful! Definitely one I want to add into my garden.
Nemesia Aromance Mulberry - We saw this displayed at different trial locations and was shocked to see how great this looked in the heat at the end of July, I think we might have a 3-season performer here!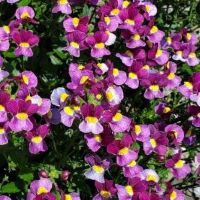 Osteospermum Voltage Gold - Just the right tone of gold to add elegance to your garden without being distracting, it is a great color!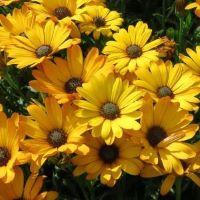 Sheri's Picks:
Snaptastic Orange Flame could not be more perfect for these Snapdragons.  They are the most luminous orange color I have ever seen; they literally glow.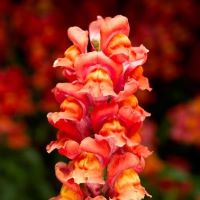 Sunrise Bright Lilac zonal Geranium is one of the most brilliant hues of lilac pink I have seen on any plant, ever.  We grew just a small amount in 2022 but the moment I walked into that greenhouse; my eye was drawn to this variety.  Not a very vigorous plant but the large flowers were rambunctiously calling out for attention.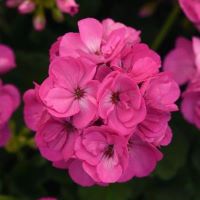 I think I might have a thing for 'in your face' flowers today…  Portulaca Nano Purple and Nano Tropical Punch round out my picks for this year.  Vibrant, intense, electric, and bold are all words I would use to describe these two varieties that are new to us this year.  Great color and performance from a low maintenance, easy to grow plant.  That is a win in my book!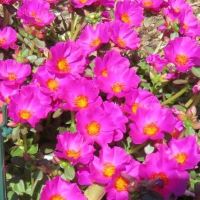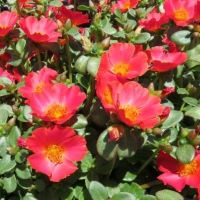 Carols picks:
Angelonia AngelDance Fuchsia Bicolor and Violet Bicolor - These two picks I distinctly noticed at Ball seed, what exciting new two-tone colors to add to mixed containers for that extra pizzazz! These plants would be a stunning addition to any design.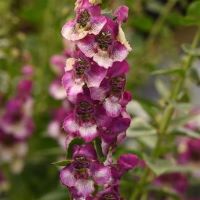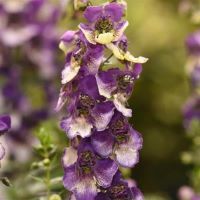 Snapdragon Snapshot Spring Mix - Nothing says spring better than the mix of Rose, Yellow and White Snapdragons, a very happy combination to welcome our warmer weather!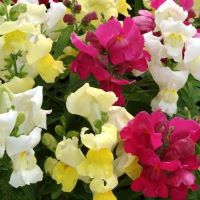 Coleus Dragon Heart - My heart fell in love with this bright coleus, 2 years in a row now. The bright green with the rose center is certain to brighten any shady area!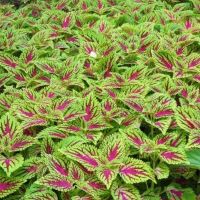 See how creative you can be with some of these beauties, we can't wait to see the results!
Happy Planning!!!