PLAN FOR POLLINATION IN YOUR LANDSCAPE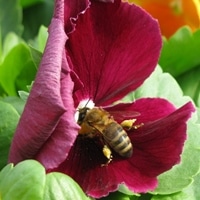 With these changing times, what better way to move forward, than to dive into the wonderful world of plants! Warmer weather is on the horizon, so now is the perfect time to start planning ahead and create alluring landscape beds or maybe a Victory Garden, with pollinators in mind. Annual flowers are a staple for mixed beds, they reliably bloom throughout the seasons giving our pollinators a feast for many months. Keep in mind fruits and vegetables need pollination for a fruitful yield. These steps below will aid in the success of helping our pollinators thrive and your gardens bloom!
Be sure to stage your blooms, making certain there is something in bloom throughout the entire growing season, and don't forget nighttime bloomers.
Onesies are not going to attract! Picture flying above a single purple flower and in the distance you see a whole patch of purple flowers, which would you be attracted to? Fun Fact: Bees cannot see the color red and so therefore are attracted to blues, violets, greens and yellow the most.
The oldies but goodies! Often in the newer varieties, the pollen, nectar and scent have been lost during the breeding process of new and improved plants. Stick with the older varieties that have stood the test of time.
Less is More! If you must use a pesticide, try and use the least harmful one and apply at a time when pollinators are not active. Make sure to purchase plants from growers who have decreased harmful pesticide usage in their greenhouses, like here at RCOP, where Beneficial's are our first choice of combat.
Water please, pollinators are thirsty too! Provide shallow puddles or run a soaker hose through your garden if you need to water, this will leave areas of dampness for needed hydration areas. Even a sponge in a dish of sea salt water will attract an array of butterflies.
Some great annuals for pollinating include: Alyssum, Calendula, Canna, Cosmos, Fuchsia, Lantana, Lobularia, Petunia, Salvia, Verbena and Zinnia
Incorporating a Victory Garden in your landscape will not only provide you and your family with safe food choices, it is a creative learning tool for our younger generation, and a sure way to lure the bees and butterflies to your garden. Imagine it like a smorgasbord for you and our hard working pollinators!
Get outside and enjoy!